WE APOLOGIZE FOR THE DELAY! JOAN'S SITE WILL BE OPEN ON THE 2nd WEEK OF AUGUST 2006
THE OFFICIAL AUTHOR'S WEBSITE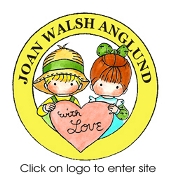 (Below Sayings from Joan Walsh Anglund Inspirational Books)
BECAUSE WE HAVE HAD SO MANY PROBLEMS WITH MICROSOFT'S INTERNET EXPLORER WE RECOMMENDED USING THESE BROWSERS FOR OUR WEBSITE.
THEY ARE SAFE AND SECURE AND WILL MAKE YOUR ENTIRE INTERNET EXPERIENCE MORE ENJOYABLE. JUST CLICK ON EITHER ONE AND DOWNLOAND AND INSTALL.
ONLY SALES ORDERS FOR NORTH AMERICA WILL BE TAKEN ON THIS SITE.. FOR INTERNATIONAL ORDERS PLEASE READ DISTRIBUTORS UNDER COMPANY INFO.
This site is Copyrighted & Trademarked All Illustrations ©2005 by J.W.A. Inc. All rights reserved ™ Joan Walsh Anglund
All Music Copyrighted ©2005 by Chris Meredith & Rockin' Horse Productions
Web Creation by Chris Meredith for J.W.A Inc.