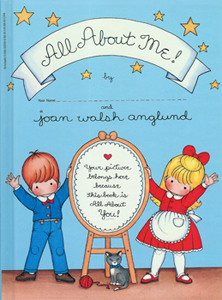 Author: Joan Walsh Anglund
Publisher: Scholastic Inc.
Date Published: 1986
ISBN: 0590338099
ALL ABOUT ME
Joan Walsh Anglund has captured the hearts of millions of children and adults alike with her special verse and illustration. This fill-in book celebrate's every aspect of a young child's life, including "My Pets" and "Wishes and Secrets". Full color.

(type Joan Walsh Anglund in search box)
Search Ebay for Joan Walsh Anglund